We're working to get all install and assembly guides in PDF form on our
support page
, meanwhile please feel free to
contact us
if you need help!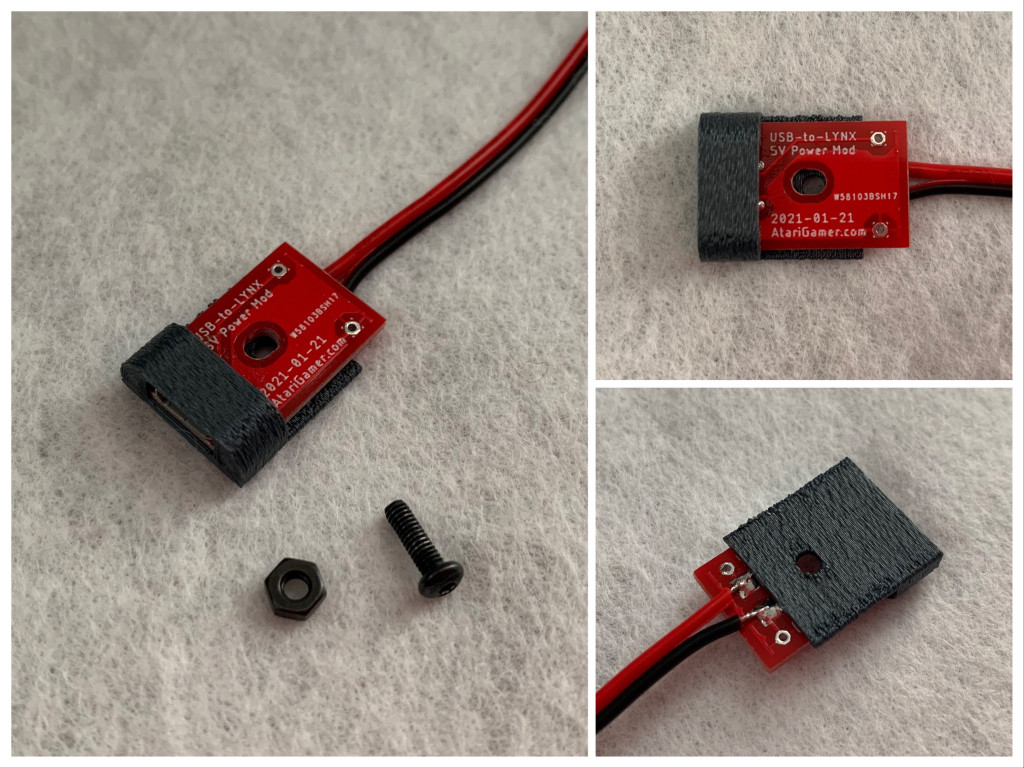  
USB 5V Power Mod Kit for Atari Lynx 2
This kit adds a micro-USB power socket to the back of your Lynx and bypasses the 9V circuit to power your Lynx directly from USB. Use a wall adapter or power bank to power your Lynx!
We recommend you also get the 1M Micro-USB cable with on/off switch to use with this kit.
See the install guide here - Installing the 5V USB mod into an Atari Lynx Model 2.
As of 9-Nov-2022 this kit will ship with a darker plastic surround. See the last photo for what it looks like.
Note: This kit requires you to drill out a 2.5mm hole in the back of your Lynx, as well as for you to trim some plastic around one of the metal loops below the 'ATARI' logo on the back on the console. You will also not be able to use the on/off buttons on the Lynx, once USB power is connected, the Lynx is instantly on and if no cart is inserted the "INSERT GAME" screen will be displayed.
Note: Do not use a USB cable to power your Lynx if you have batteries in it or if you are also using the original power socket with a 9V wall adapter. USB power should be used alone.
---
Package Contents
1x Micro-USB PCB
1x 3D Printed Shim/Cover for USB port
1x M2.5 Bolt and Nut
1x Black and Red wires cut to size
Customers who bought this product also bought: