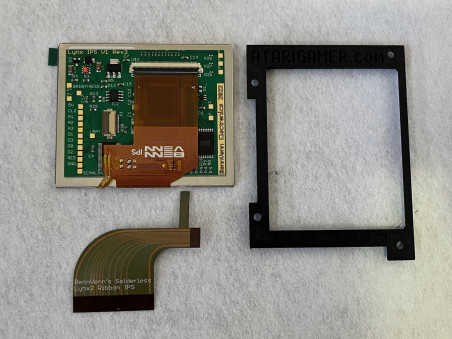  
[PRE-ORDER] BennVenn IPS LCD Mod Kit - Lynx 2
This is the latest version of the BennVenn LCD replacement kit for Atari Lynx. It uses a high quality IPS screen instead of an older TFT screen.
This is a PRE-ORDER item. The PCBs are being manufactured now. Expected shipping of assembled kits in late December 2022/early January 2023. Your order will not be split into separate shipments and we'll hold shipping your entire order until all pre-order items are available.
There is also VGA out support. Note: VGA extension cable and connector is sold separately.
To use VGA out or scan-line switching functionality, you will need to solder some wires.
Note: The built-in power circuit protection is not fitted by default due to global chip shortages and increased costs of components. If you would like to add this to your kit, select the "Add Protection Zener Diode" in the LCD Kit Features. If selected, the Zener Diode will be soldered onto the PCB. Adding the zener will protect the LCD kit from burn out in case your Lynx's MOSFET/zener fail and it will offer some limited protection to your Lynx too. See this page to see effect of the protection circuit being triggered. Replacing the MOSFET/zener on your Lynx is the best option however.
---
Package Contents
1x LCD screen and driver board for Lynx model 2
1x Mounting bracket for Lynx model 2
1x Ribbon cable for solder less installation (not provided with C104129-001 version)
Customers who bought this product also bought: