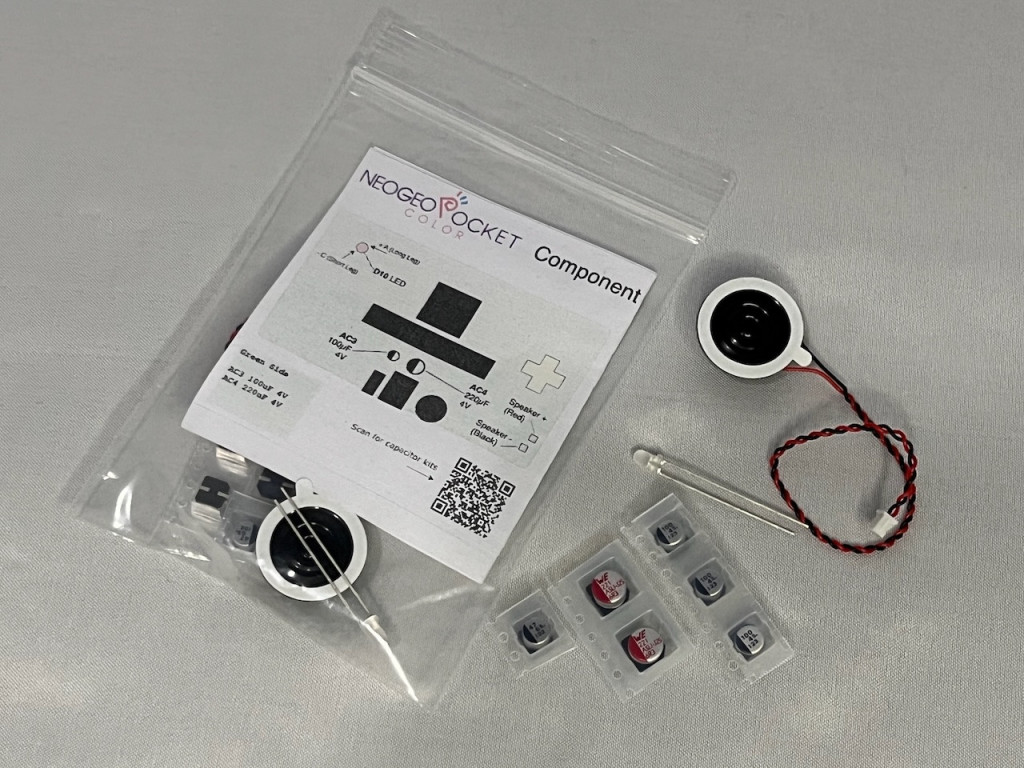  
Capacitor Replacement and Refurb Kit with Replacement Speaker for SNK Neo Geo Pocket Color
All new, high-quality capacitor replacements to get your SNK Neo Geo Pocket Color console up and running again. Includes all of the electrolytic capacitors, new speaker and power LED.
Capacitor Replacement and Refurb Kit for SNK Neo Geo Pocket Color console. Not just capacitors but a new and louder speaker and a modern looking power LED replacement.
Each kit comes with a mini component map for the NGPC showing locations of capacitors and other components. We recommend you get a full-size, laminated map together with your kit.
The included speaker is louder than the original, watch the video below to see (hear) for yourself...
We use high-quality capacitors in this kit from suppliers like Panasonic, Nichion, Kemet, Wurth Electronik. You will not see cheap, substandard capacitors in any of our capacitor replacement kits.
This kit requires soldering.
Note: In some cases we will provide a higher voltage capacitor than the listed, this is safe to install and is actually more reliable. For example we may supply a 16V 22uF capacitor instead of a 6.3V 22uF. We ensure that the capacitor can fit physically, so you don't have anything to worry about.
---
Assembly and User Manual
Note: When soldering in the LED, it's best to insert the LED into the PCB, then place the PCB into the front part of the case so that the LED drops into its housing, then solder the LED in. This way you will get the perfect height and no gap between the LED and the case. When fitting the speaker, cut the wires to desired length first.
---
Package Contents
3x 100uF 4V
2x 220uF 6.3V
1x 47uF 6.3V
LED
Speaker
Customers who bought this product also bought: